I work at Parsons School of Design, The New School. The Parsons Staff Council awarded me funds to travel to Boston in April. While there I visited the Harvard Art Museums' exhibition From the Andes to the Caribbean: American Art from the Spanish Empire. One of the works that stood out to me was Christ Entering Jerusalem. I did some rough sketches and continued through the exhibition.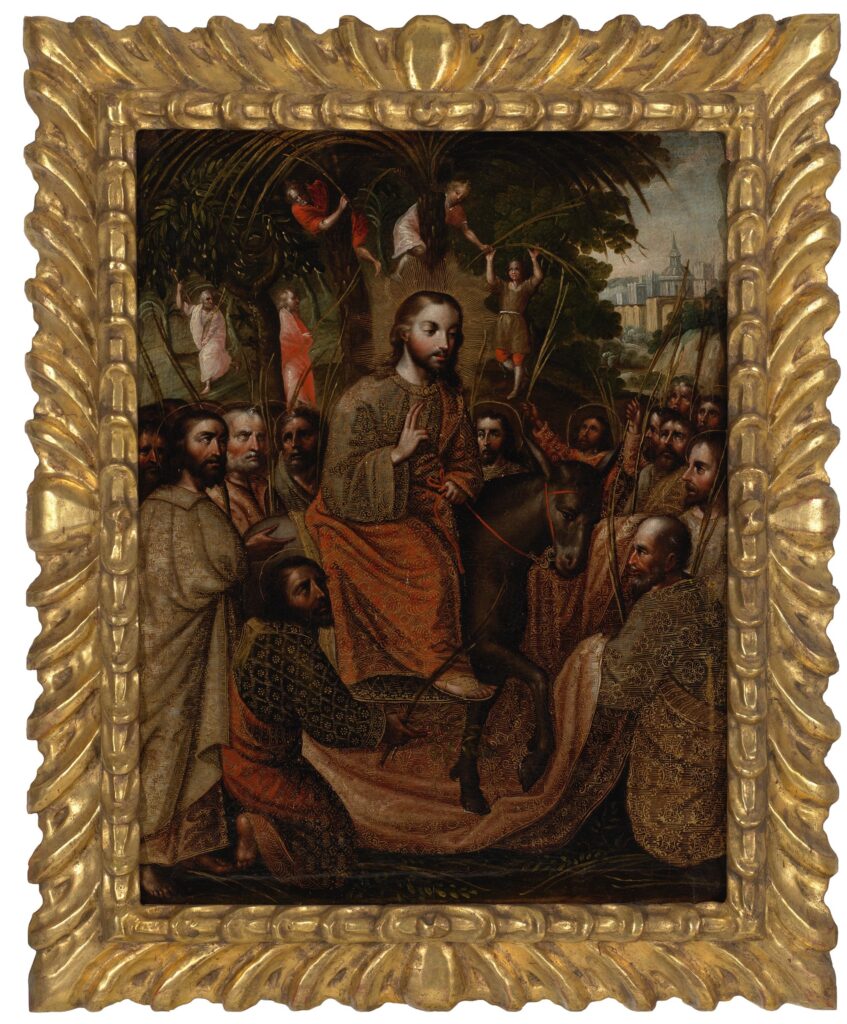 Earlier that day before visiting Harvard Art Museums we had been walking the Boston Freedom Trail and had taken some pictures on the Donkey Statue at Old City Hall.
There was a painting forming in my mind. The full composition wasn't certain, but the central idea had formed. I would paint My wife as the personification of Latin America, proudly astride a brass donkey. That the donkey statue in front of me at that moment represents the democratic party of the United States is some cold irony I'm still unpacking.
In the painting Intra Caetera and Inter Latinos there are three dates on Latin America's halo; 1493, 1542, and 1823.
1493 – Pope Alexander VI issues a papal bull, "Inter Caetera," in which he authorizes King Ferdinand II and Queen Isabella I to colonize the Americas and its Native peoples as subjects.
On March 30, 2023, the Vatican issued a Joint Statement of the Dicasteries for Culture and Education and for Promoting Integral Human Development on the "Doctrine of Discovery"
1542 – Bartolomé de las Casas writes "A Short Account of the Destruction of the Indies". The work is published a decade later. In his introduction, de las Casas wrote "
"The cause for which the Christians have slain and destroyed so many and such infinite numbers of souls, has been simply to get, as their ultimate end, the Indians' gold of them, and to stuff themselves with
riches in a very few days, and to raise themselves to high estates without proportion to their birth or breeding, it should be noted owing to the insatiable greed and ambition that they have had, which has been greater than any the world has ever seen before…"
1823 – The Monroe Doctrine.